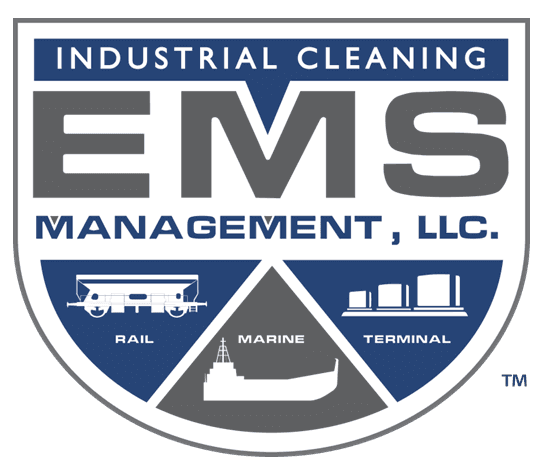 BARGE CLEANING APPROVAL FOR DISTRICT 8
EMS strengthens its service offerings across North America with the permit approval for barge cleaning
Houston, TX, August 1, 2017 – EMS Management LLC (subsidiary of Arrow Material Services), is pleased to announce that it has obtained permitting approval from the United States Coast Guard to clean barges and marine vessels within District 8.
Mobile barge cleaning operations will be able to occur in these and surrounding areas:
Corpus Christi, TX
Houston, TX
Galveston, TX
Memphis, TN
Mobile, AL
New Orleans, LA
Louisville, KY
St. Louis, MO
EMS Management provides mobile and fixed industrial cleaning solutions for railcars, marine vessels and above ground storage tanks. 20 years of experience has led EMS to perfecting the art of efficient industrial cleaning. With its proprietary cleaning formula, TERRAHYDROCHEMTM, EMS is able to provide cleaning solutions with 90% less water waste. TERRHYDROCHEM's caustic free, nanoscale cleaning agent is created using natural cleaning fluids. THC blends its products with plant based elements to make safe, non-toxic and biodegradable cleaning solutions.
Their safe, green, on-time and cost effective service has made EMS a leader in industrial cleaning and repair.
CEO, Todd Hull personally reviews the needs of each customer to develop a custom engineered solution to meet the cleaning needs of the project at hand.
EMS Management will clean its first approved oil barge this week in Houston, TX.
About EMS Management, Inc.
EMS provides environmental, fixed and mobile cleaning services to customers in the transportation and manufacturing sectors. The company maintains railcar cleaning operations in Houston and San Antonio, TX, and East Camden, AR, and at terminals operated by Arrow Material Services. EMS was founded in 1994 and is based in Denison, TX. The company is now a wholly-owned subsidiary of Arrow Material Services.
For more information, contact EMS Management, at 800.240.2297 or sales@emsmanagement.com